Altrincham History Society
---
---
The Society and Its Aims
What do you know about the history of your area?
Want to learn more?
Altrincham History Society exists to further the study of the Altrincham area and to enable such research to be communicated to the public.
Members enjoy a series of talks through the year, with occasional visits, and are encouraged to become active in researching topics related to the history of the area.
The Society publishes the results of research in booklets and a yearly journal. A full index of the Society's publications is available here in 'pdf' format.
Altrincham today is very much a modern town, with recent developments involving many changes but, beneath the streets and behind the buildings, there is a story to be told.
---
Membership
Subscriptions are £8p.a. or £15 to include a spouse or partner. Visitors are welcome, and are charged £2 per meeting.
To join, please complete the Membership Form (pdf)
The Society's Data Protection Policy may be viewed and downloaded here in MS Word format.
---
Meetings
---
During the Coronavirus epidemic the Society's meetings in April and May 2020 are cancelled.
We hope to resume meetings in September 2020.
---
Altrincham History Society meets monthly from September to May, on the second Tuesday of the month, starting at 7.30pm.
Meetings are held at Altrincham Town Hall, Market Street, Altrincham WA14 1PG (pictured below, right) in the Old Council Chamber, on the first floor (lift available). A map showing the location is below, left...
v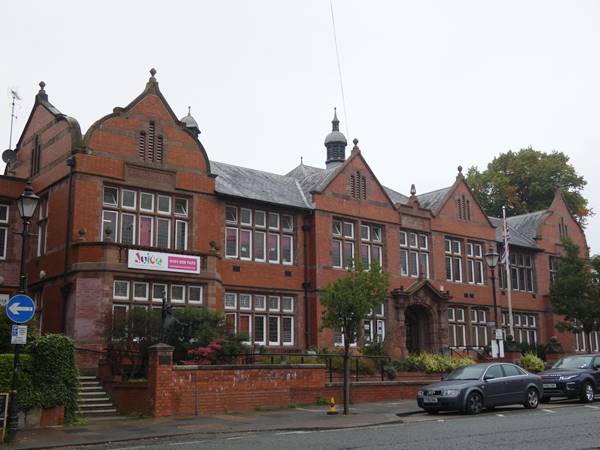 ---
Programme for 2019-20
All meetings are on Tuesday evenings, starting at 7.30pm.
Tuesday, 10 September, 2019: George Mottershead and the opening of Chester Zoo by George Cogswell.
Tuesday, 8 October, 2019: Margaret Ashton: first woman councillor in Manchester by Jean Bailo.
Tuesday, 12 November, 2019: A virtual walk round higher Altrincham by Hazel Pryor. NB change of event.
Tuesday, 10 December, 2019: Christmas Buffet and Quiz.
Tuesday, 14 January, 2020: The Mainwarings and Peover Hall by David Young.
Tuesday, 11 February, 2020: Adolphe Valette: Manchester's very own French Impressionist? by John Ward.
Tuesday, 10 March, 2020: Operation Pluto and Cheshire's part in wartime distribution of fuel to Europe by Peter Young.
April and May, 2020 meetings: CANCELLED, as a consequence of the Coronavirus pandemic.
---
Contact
If you would like more information about the Society or its meetings, please contact:
The Secretary on 0161 973-0829
The Chairman on 0161 980-5464